Spinal Frame LT1000CS  is a  frame for prone position procedures such as posterior cervical, thoracic and lumber surgery.
It has less vertical depth than other conventional models.
Description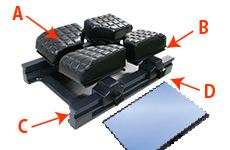 A. Pad
Patterned, indented surface provides equalization of contact pressure. By rotating the support inwards, the patient's body position is maintained with superior retention.
B. Plate
Our Spinal Frame Plates have an excellent reputation for their superior radiolucence and resiliency. Tilting the Plate to adjust the angle of Kyphosis improves retention of body position.
C. Fully radiolucent
The LT-1000LP is fully radiolucent, allowing for use with 3D navigation systems.
D. Cassette Space
Cassettes slide easily through the wide opening at the patient's side.