Our LT-series Spinal Frames are the best models for clear and concise X-ray images by C-arm.  Cassettes slide easily through the wide opening at the patient's side.
When used in the combination with our Head Support products, this model can be used for cervical vertebra surgery.
Description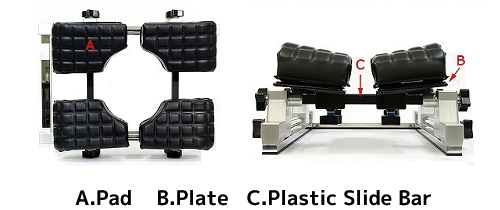 A. Pad
Patterned, indented surface provides equalization of contact pressure. By rotating the support inwards, the patient's body position is maintained with superior retention.
B. Plate
Our Spinal Frame Plates have an excellent reputation for their superior radiolucence and resiliency. Tilting the Plate to adjust the angle of Kyphosis improves retention of body position.
C. Plastic Slide Bar
The Slide Bar is made out of radiolucent plastic material.